Good News Stories from the Field Edition 2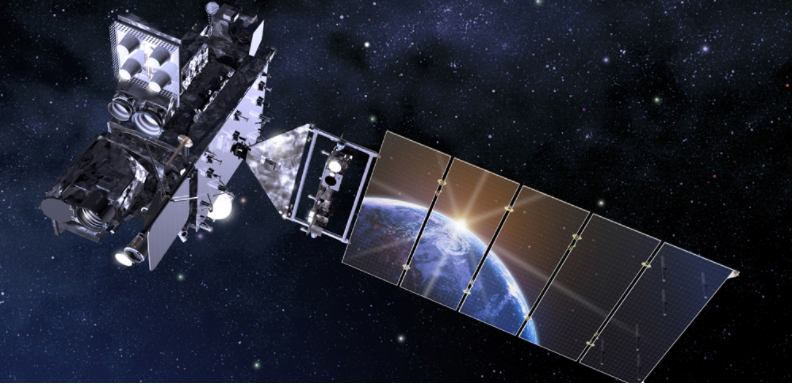 Ms. Julie Meyer
NWS Field Office Missouri Basin River Forecast Center (MBRFC)
The one recent event where DCP data really helped was the ice jam event on the lower Missouri River near Jefferson City, Missouri. The ice jam was estimated to be over 115 miles long - the d/s end was just about Jeff City. The low flows due to the ice jam wss causing concerns at a downstream power plant near Labadie, Mo. It required quite a bit of coordination and having the near real-time data for several gages was critical in producing accurate forecasts, both stage and flow, at Hermann, Mo and Washington, Mo. These low flow forecasts helped the power plant folks in their decision-making so that the plant would stay in operation. This was during the February arctic blast that had descended upon the Great Plans. MBRFC did more than one post about the ice jam back in February.


---
Phillip A. Allegretti
Vaisala Inc. (manufacturer)
I don't have any new stories to share … however, we do have a customer that is heavily dependent on reliable GOES satellite communication. This customer is SHOA, the Chilean Navy. They rely on GOES telemetry in support of their Tsunami Warning System.

They have systems all along the Chilean coastline and on neighboring islands continuously monitoring for early signs of Tsunami warning. Their "war-room" is manned 24/7 as they are continuously looking for abnormal conditions which may suggest potential danger. This group works closely with the Pacific Tsunami Warning group in Hawaii which is interesting as there are conditions which can point to Tsunami in either area.
---
Ian Persad
Meteorological Equipment Repair Supervisor Trinidad and Tobago Meteorological Service
Tropical Storm Karen caused heavy flooding in Scarborough, Tobago from 21st to 22nd September 2019.

Our Station, located at 11 º 10' 43.01'' N 60º 44' 7.49" W in Scarborough, was functional except transmission was offline for troubleshooting during this period. However, the data provided from the station provided important information to forecasters and the climate department. This allows for better marine forecasts for the area and allows Fishermen information on where to have their vessels secured.

Below is footage during this event.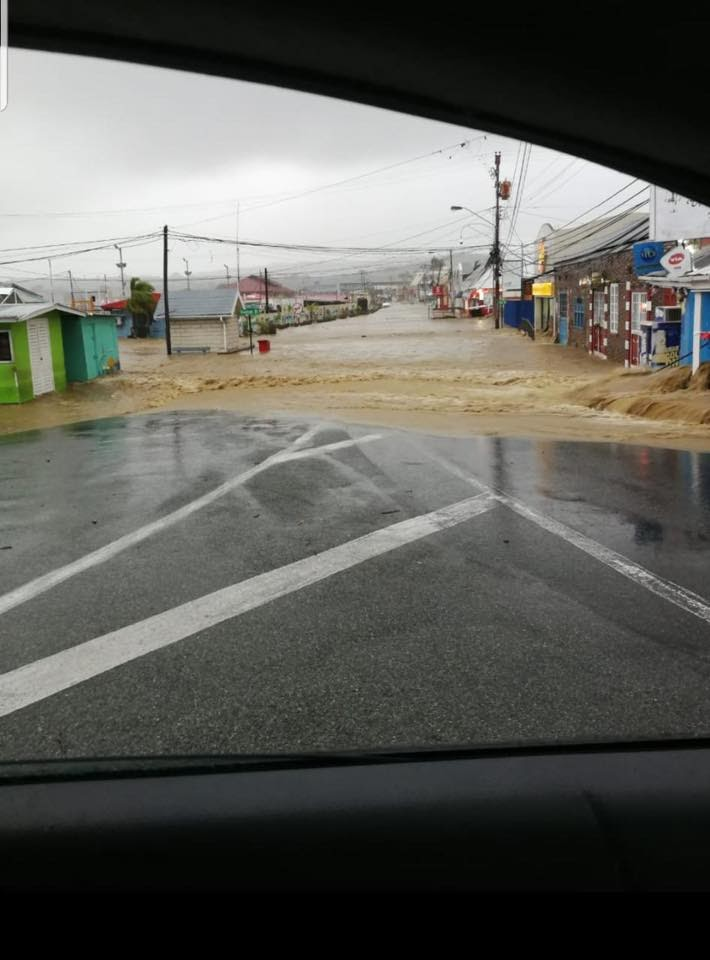 Video Footage
---
Rich Townsend Sidney High School Sidney, NY
Our flood monitoring system was put into place (contains 7 GOES transmitters) in response to a devastating flood that affected our area in June of 2006. The network contains rain gauges and stream gauges that transmit data through GOES-East. It was put into full use in 2007 and there was another equally devastating flood in September of 2011 where we were able to provide advanced warning to our community because of this new data. This early warning gave community members extra time to move belongings and allow for safe evacuation before flood waters rose too high. This network is still in place today and is used for every heavy rainfall event.

Images below show flooding in Sidney in September 2011…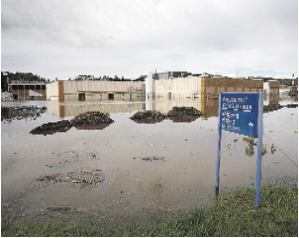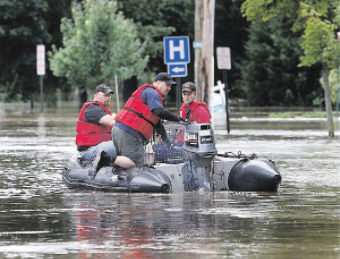 ---
Richard Pardee
WMA Radio Liaison Officer USGS Hydrologic Instrumentation Facility
The following stories are great examples of how reliance on the internet has its weak points. Direct downlinks are best-case.
In 2000, while working with USAID and the Honduran government to help them re-establish their hydrologic network which had been a radio-based network. As USGS came in to help, we transitioned both their field stations to GOES. We were in the process of looking for options for receiving the GOES data. DRGS systems were coming in at $115k per site which would have blown our entire budget. Internet connections to Wallops and EROS LRGSs were considered as were a few options.

One afternoon while driving back from a counterpart's office to my hotel, my cell phone rang with a US Embassy military official on the other end who first confirmed my identity and then instructed me to return to my hotel directly and remain there until additional instructions were provided by the embassy. With my curiosity piqued, I turned on the radio only to find military march music on all stations... AM and FM. I arrived at my hotel to find the garage door to the parking closed with an armed guard in front. After verifying I was a guest in the hotel, I parked and went to my room to get news on the TV. This only provided more military march music and the Honduran flag on all channels on the TV. I thought I better let my wife know, so I grabbed the phone and started to dial... only to be met with more military march music.

In the end, it was a non-bloody, failed coup attempt that literally shut down all communications into and out of the country... EXCEPT for direct to/from satellite transmissions. It was then that I realized the benefit of leveraging not only GOES telemetry in the field, but also direct from satellite reception of that data for the protection of life and property. Keeping the valuable flow of hydrologic early warning data flowing, regardless of political turmoil, was a big part of all decisions going forward.

In the end, we landed on a solution that leveraged the NOAA NWS EMWIN system to retransmit GOES DCS data back over another GOES transponder that could in-turn be received on $1,500 ground stations that were unaffected by any future communications interruptions. As far as I know, it's still working in Honduras, Guatemala, El Salvador, and Nicaragua today.
---
Richard Kiah
Chief, Hydrologic Network Operations
Great examples of ice jams and effects and purposes/value of near-real time data for emergency management
GOES DCS is critically important in northern climates for warning during periods of ice jam formation and release. Ice jam flooding can be extremely rapid and unpredictable. When formed, ice jams are unstable and may release suddenly with little warning. Here are two examples:

USGS, in cooperation with State and local emergency management personnel, has established thresholds for increased transmissions of GOES data from USGS station 01076500 Pemigewasset River at Plymouth, NH to warn of rapidly increasing stage. The reach is subject to frequent ice jam and riverine flooding. On February 25-27, 2017 an ice jam formed along a 5-mile reach of the Pemigewasset River from Holderness to Plymouth, NH. Information from the streamgage was available in near-real time for flood warning as well as monitoring of the ice jam, once formed. The information was used by the State, Local authorities, and USACE Cold Regions Research and Engineering Laboratory (CRREL), for briefings to the NH Governor, emergency first responders, and news outlets.

On February 14, 2019 USGS established a rapid deployment streamgage on the South Branch Piscataquog River to monitor water levels and potential flooding near New Boston and Goffstown, NH. GOES DCS was used to relay 15-minute data to local emergency management personnel to monitor changes in the water level in a 1-mile reach above the town of Goffstown. GOES DCS allows USGS to respond to the unpredictable nature of ice jams and provide much needed flood warning and monitoring.

---
Captain Scott Ireland Navigation and Safety
Yesterday 11/20, I sailed a ship from the P&M Terminal in Coeymans. ( the M/V Clifton Bay ) The ship was 646ft long x 105.6 ft wide with a deep draft of 26.5 ft. It's about the largest ship we generally see on the river.

The size/length of the ship required that I proceed north to Albany to use the turning basin in order to safely turn the ship around in the river for the southbound voyage. As the turning basin is on the east side of the river and ship maneuvering characteristics being what they are, 98% of ships turn to the right ( clockwise ). Turning left is only attempted when there is a strong ebb current and when doing so, there are a number of forces in play that make the maneuver much more difficult.

All the data we use to date ( NOAA & Stevens ) predicted an ebb current running at about 0.85 knots at the time I planned the turn. At that speed turning to the right leaves the stern of the ship exposed to the full strength of the river running south and the tug I had was not strong enough to push the stern of the ship upriver into the current. I was faced with turning the ship to the left, (putting the stern of the ship into the turning basin- out of the current ). As I mentioned earlier, it's a much trickier navigational maneuver.

My point here is that I had been monitoring the new real time meter on the way north from Coeymans. When I was just south of the port, the most recent data feed, just 15 minutes earlier, showed an actual speed of 0.26 knots.....a third of the predicted current and well within the threshold to safely turn the ship to the right.
The data from the meter directly caused an immediate change in the navigational plan of the ship resulting in a safer maneuver.

So....and the point of my note: The new meter in Albany is working and it's providing us with valuable data that has a tangible impact on navigational safety.
---
Kevin R. Kodama
Senior Service Hydrologist NOAA/NWS Honolulu Forecast Office Hurricane Forecaster, Central Pacific Hurricane Center
On March 9 we had an intense heavy rain event (over 15 inches in 6 hours) on Oahu that caused significant damage. Within the event, a large flood wave was generated in the Opaeula Stream basin on the northern side of the island. The flood wave triggered a data burst to the GOES-17 satellite from the USGS' gage on Opaeula Stream (NWS ID: OPAH1). A short time later, data alarms were triggered at the NWS Honolulu Forecast Office. The rapid availability of the data, telemetered via GOES satellite, enabled the Honolulu Forecast Office to issue a Flash Flood Emergency for the town of Haleiwa. The warning provided sufficient lead time to emergency managers and first responders to evacuate people from the low-lying areas of the town. Although there was significant property damage, no lives were lost and there were no significant injuries. The following is a statement from Hirokazu Toiya, the Director of the Department of Emergency Management, City and County of Honolulu.

"I credit the National Weather Service with using near real time data for the Opaeula Stream gage to alert us at the local emergency operation center and the public prior to the onset of severe impacts. The timely communication with NWS supported our decision to immediately evacuate the downstream population which saved lives. Just about all of the flooding that we experience here in Hawaii is flash flooding and this incident reinforced the need for us to have real time information."