Broadcast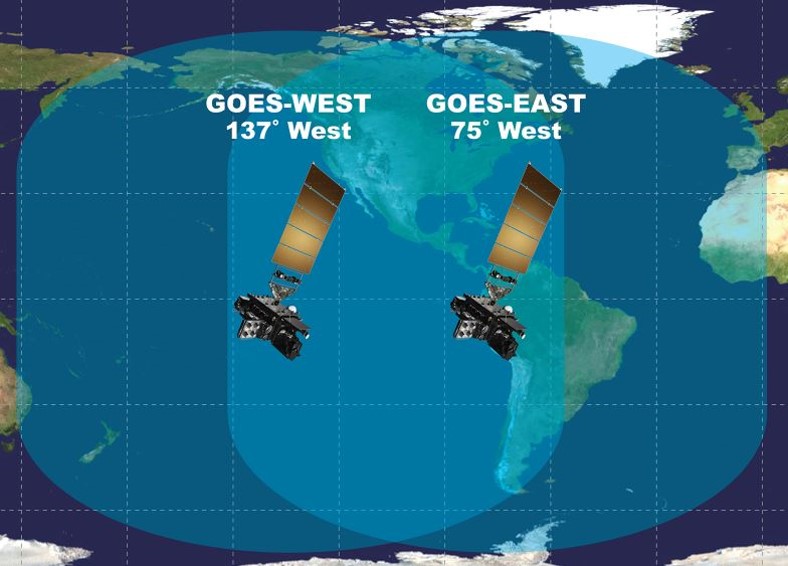 The NOAA/NESDIS High Rate Information Transmission / Emergency Managers Weather Information Network (HRIT/EMWIN) broadcast is resident on NOAA's GOES-R Series of Satellites. It is now operational on GOES-16 as the operational East satellite and GOES-17 as the operational West satellite. The NOAA-NESDIS fly out chart can be located at NOAA-NESDIS fly out chart.

The HRIT/EMWIN broadcast is in the L-band range at 1694.1 center frequency. The broadcast should be able to be received using a VSAT antenna of less than 2 meters with a predicted minimum size of 1 meter (see the "Antenna System" specification in the accompanying table). It is advisable to consult with your equipment provider as each installation is unique based on your location within the broadcast footprint and your unique antenna location.


Characteristics
HRIT/EMWIN
Broadcast Specifications
Platform
Operational East and West
GOES-R Series Satellites
Operating Frequency Range
L-band
Center Frequency
1694.1 MHz
Data Rate
400 Kbps
Symbol Rate
927 Ksps
Modulation
BPSK
Polarization
Linear – Vertical offset
Antenna System
At 5 degree elevation, the minimum antenna is 1.2 meter.
At 10 degrees or more elevation the minimum size is 1.0 meter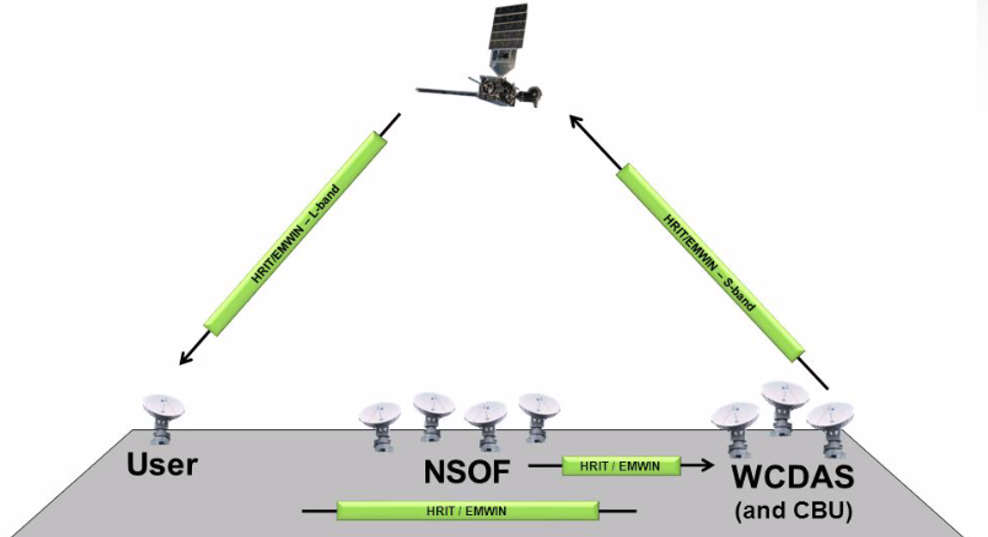 The primary HRIT/EMWIN broadcast is formed in the HRIT/EMWIN processors within the Product Distribution and Access (PDA) system at the NOAA Satellite Operations Facility (NSOF) in Suitland, MD. It is formed into a broadcast stream and sent to either the Command and Data Acquisition Station at Wallops Island, Virginia (WCDAS) or the Consolidated Backup Facility (CBU) at Fairmont, WV for uplink to the satellite. A secondary instance of the HRIT/EMWIN and PDA systems are located at the Consolidated Backup Facility (CBU) in Fairmont, WV. This broadcast is restricted to the essential components of the Emergency Manager Weather Information Network (EMWIN) and GOES Data Collection Service (DCS) products along with some graphic format satellite images. This broadcast stream can be uplinked at the CBU at Fairmont or transferred to the Wallops Command and Data Acquisition Station (WCDAS) in Wallops Island, Virginia. The broadcast is formed in accordance with the HRIT/LRIT Standard and CCSDS Standards.

The HRIT/EMWIN broadcast can be received within the footprint of the GOES East and West satellites. The HRIT/EMWIN broadcast can be received from the Eastern Atlantic Ocean to the West-Central Pacific Ocean. In addition, the HRIT/EMWIN broadcast contains imagery in the NOAA HRIT format from the Himawari satellite. This extends the coverage available to the Indian Ocean and East Asia mainland.